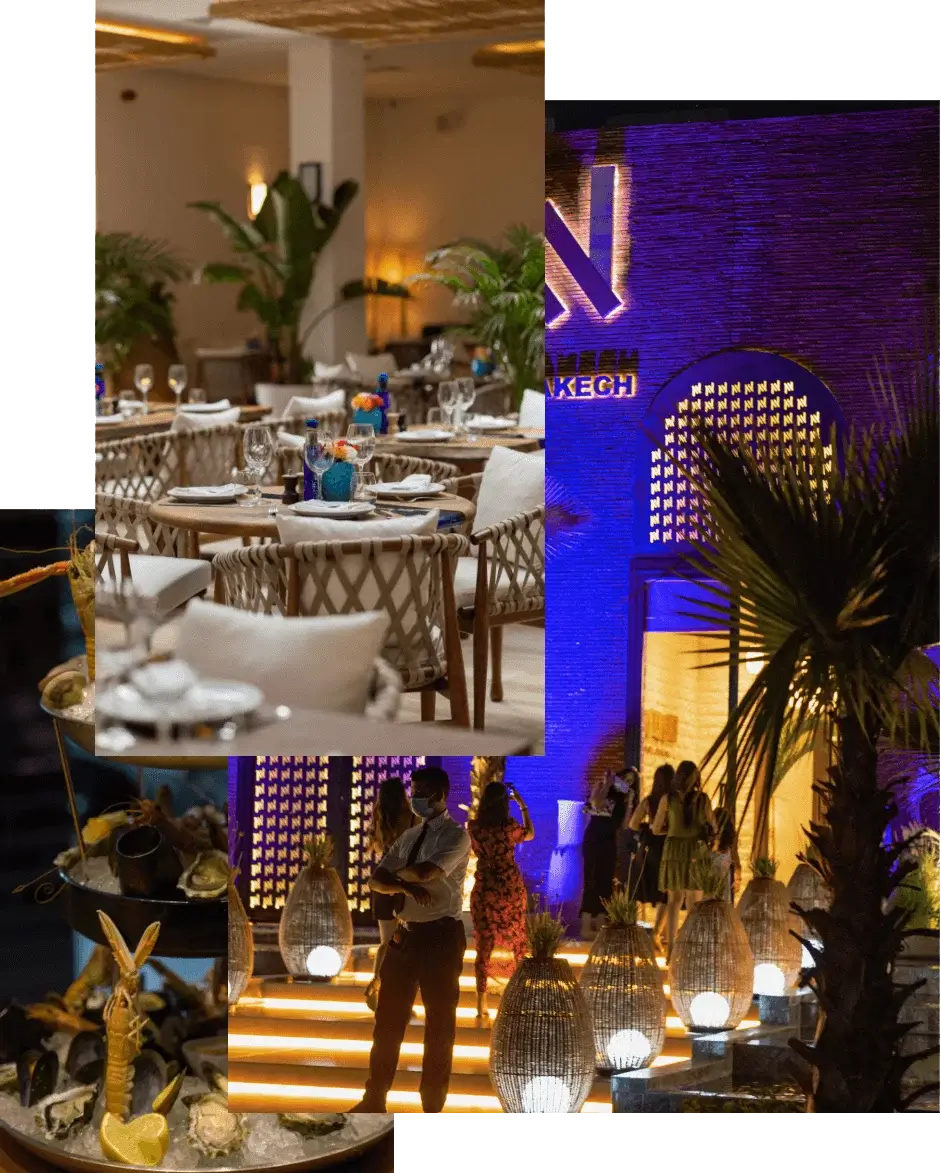 NOMMOS – Restaurant Lounge in Marrakech
NOMMOS RESTAURANT – Elegance and Mediterranean Style
Located in the heart of Marrakech, NOMMOS is the new trendy restaurant in Marrakech. All the elements that make it the flagship destination for those who enjoy life and are fond of exceptional dishes, all in a most elegant setting.
Quality is our watchword.
Quality and finesse are the values around which the restaurant has been designed. Concerned about Luxurious quality, NOMMOS only serves exceptional meats, matured or not (from Moroccan, French and Australian farms), fresh fish, signature dishes, as well as sumptuous wines and champagnes. NOMMOS is above all a sensory and festive experience around Mediterranean glamour, based on recipes rich in flavors inspired by Mediterranean cuisine and Asian fusion.
A unique experience in Marrakech!
In addition to quality, NOMMOS also stands out for its warm and elegant design. Bright, with authentic architecture and natural, subtle, and elegant decoration, NOMMOS makes a point of honor on the comfort and the pleasure of the eyes.
Contemporary, the restaurant offers the concept of an open kitchen, allowing you to interact in real-time with the chef and his team. In addition to the restaurant area, NOMMOS offers a lounge area located on its rooftop, the Sky Lounge, ideal for a moment of relaxation with background music in an idyllic setting.
Discover the best of Mediterranean and Asian cuisine in the heart of Marrakech
Our chef, who specializes in Mediterranean cuisine, will serve you both classic and modern dishes in an effort to ensure that you have an unparalleled culinary experience. Every day, our sushi men will serve you elegant, gourmet distinctive creations made with carefully chosen ingredients to satisfy even the most demanding customers.
It all takes place in a festive setting, giving you a gastronomic adventure that redefines luxury entertainment in Marrakech.
You will be served by highly qualified employees since we value your comfort and your feedback. Put your trust in our expertise and visit NOMMOS to discover delicious and elegant cuisine in a welcoming atmosphere.
All our dishes and our menus are renewed according to the seasons!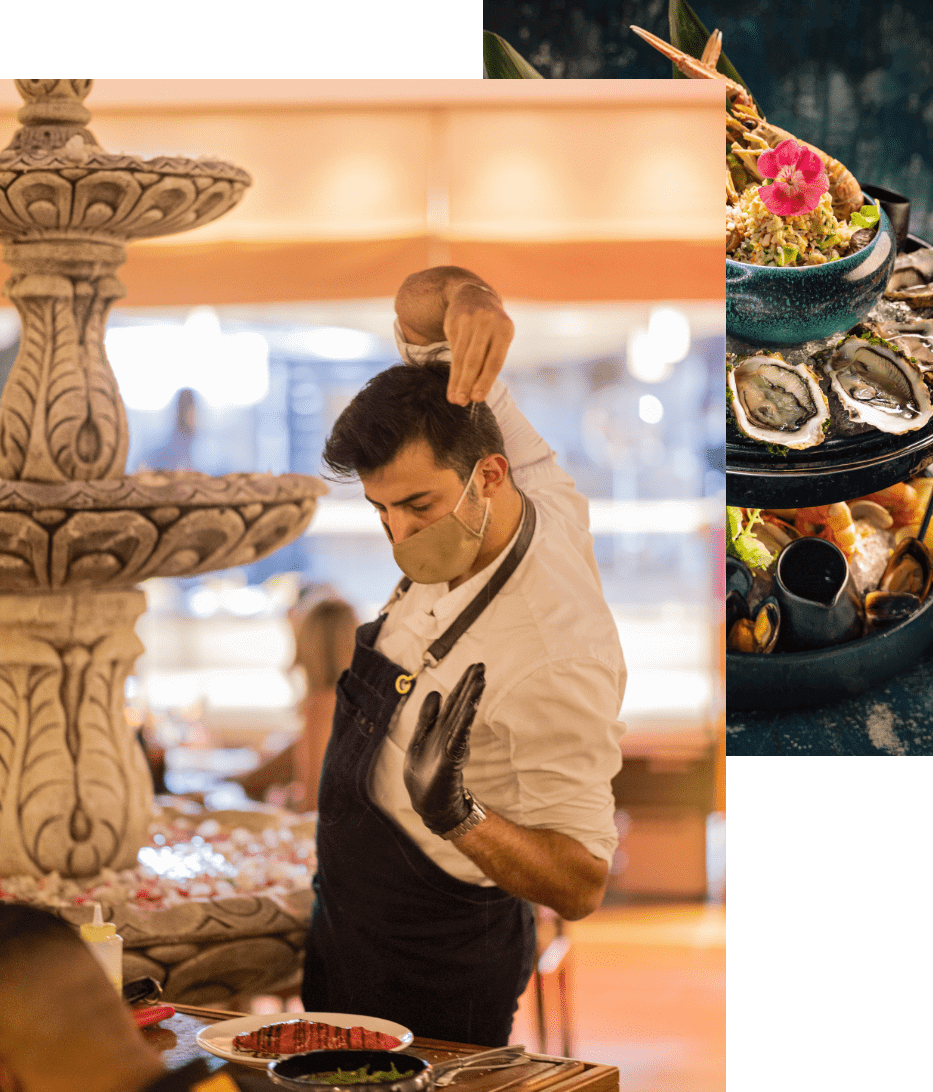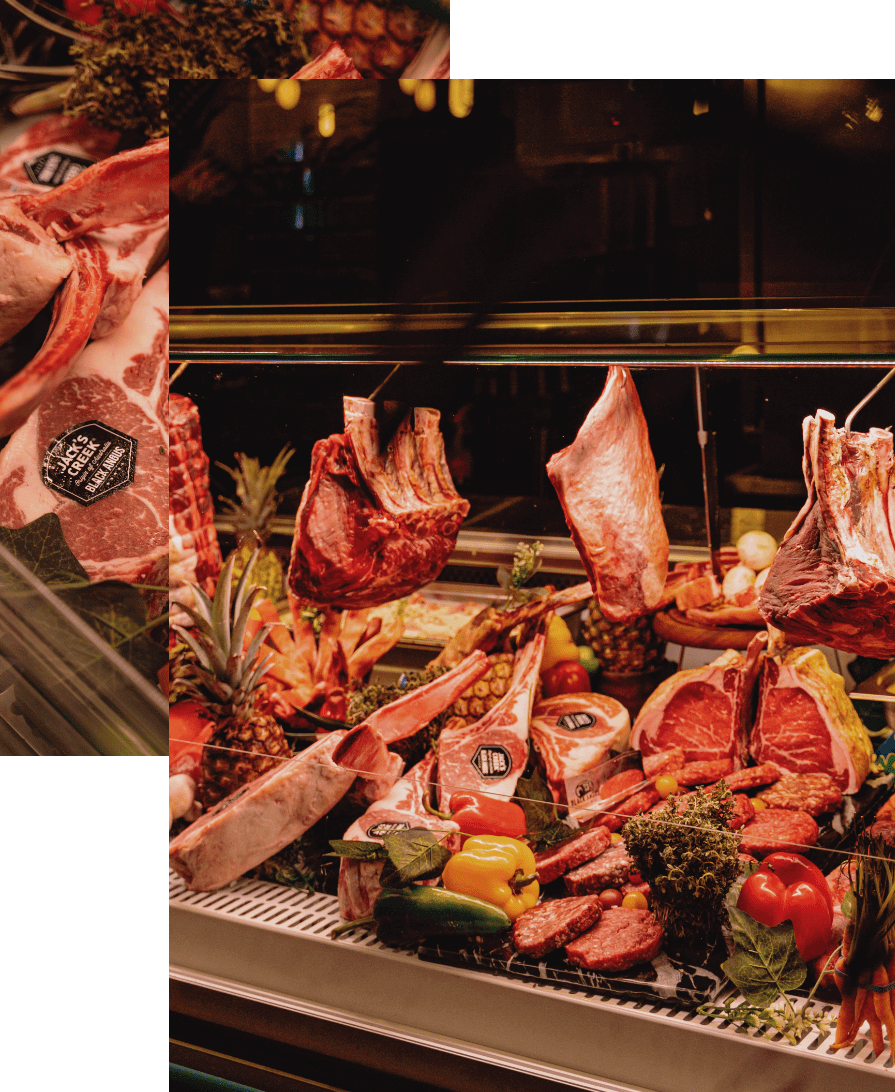 Explore our enormous variety of exquisite meats.
You will be given an outstanding range of options, matured meats, such as Black Angus, Wagyu, etc. For you to have a delightful dining experience, their maturation can last anywhere from a few weeks and several months.
In addition to offering a large variety of high-quality meat and seafood, NOMMOS is a unique Marrakech fine dining restaurant thanks to the diversity, quality, and freshness of its products. This is the address for Fine gourmets, admirers of magnificent ambiance, and seekers of elegance.
Open every day from 7 p.m. to 2 a.m., the NOMMOS team makes every effort to meet all your needs.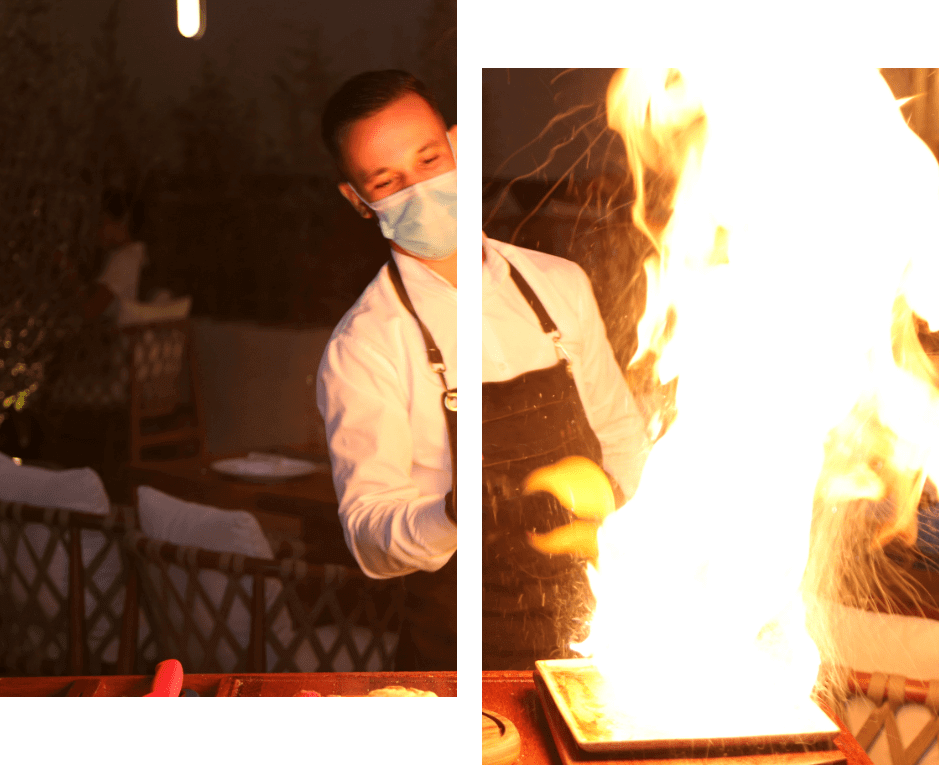 Treat yourself to a moving moment thanks to our shows
Because at NOMMOS cooking is considered an art, our talented showmen will offer you animations allowing you to observe the details of the preparation of your dishes.
Our goal is to provide you with a memorable dining experience by enjoying a sense of closeness, breaking down the barrier between the chef and you.
Warm atmosphere: Live Show, Live Band, and Dj Evening
Warm ambiance with live performances, live music, and DJ nights
The best spot to extend your evening with delectable specialty drinks is NOMMOS. In this particular area of Marrakech, enthusiasm and camaraderie rule every evening. NOMMOS, is the jovial mood of Mykonos evenings, where flaming rhythms and the setting sun make a wonderful pair.NOMMOS offers quality entertainment through artistic performances, live shows, and live bands.
Make your emotions your only guide and enjoy an evening that will last until the end of the night.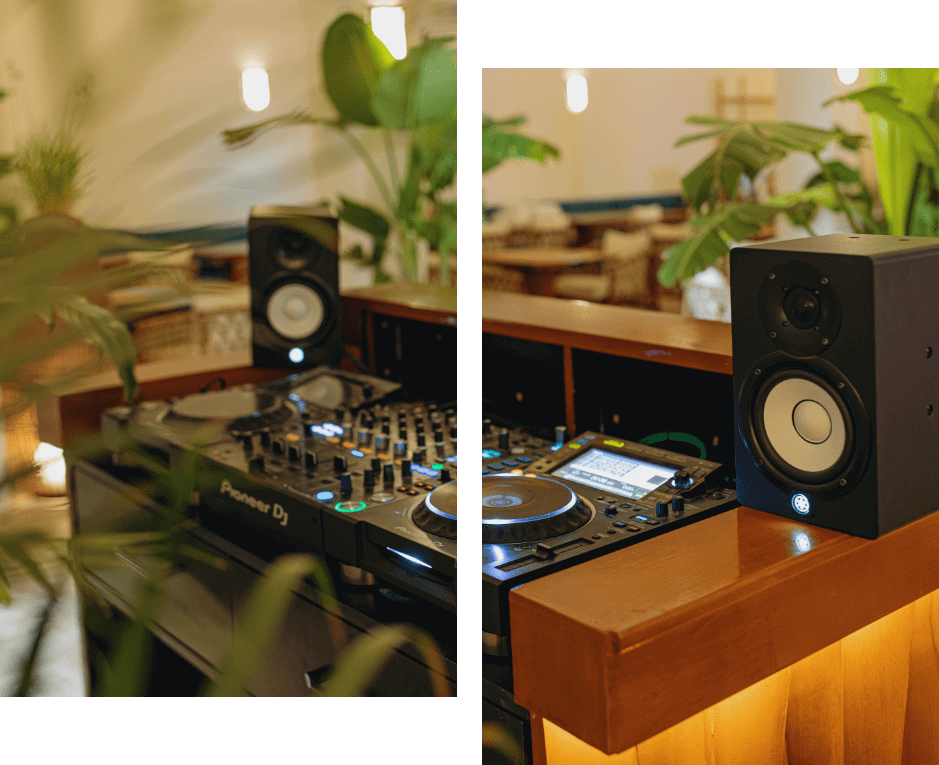 Welcome to Nommos